"ADHD children" are found in every classroom. ADHD is a neuro-biological disorder that impacts between 5% and 9% of children and teens in the United States. Depending on the type of Attention Deficit Disorder that they inherit they may have some very serious challenges in childhood to overcome. These "ADHD children" will need lots of help, different kinds of help, to be successful in school and at home with friends.
Many parents report that they knew their child had ADHD from infancy, and there is a lot of discussion taking place today regarding the use of stimulant medications with children as young as four years old. Certainly, as children with ADD ADHD reach school age, they will have new struggles as they leave their comfortable home environment for the structure of a classroom. Often ADHD kids "hit a wall" academically in third grade, and again in the seventh grade.
There are several effective interventions for "ADHD children" including medications, therapy for their family, cognitive and behavioral training, ATTEND and other homeopathic nutraceutical medicines, EEG biofeedback, and ADHD diet interventions.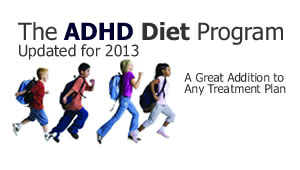 Go to the ADHD Diet Information site to get the full ADHD diet in eBook PDF format, including our UPDATES for 2013. We also have the full 21 minute information video on our ADHD eating program.

Even for children ADHD can have a negative impact on social interactions with peers. For those ADHD children who are impulsive, hyperactive, or have temper outbursts, it is likely that they will not be as well liked as other kids without ADHD, and will have fewer friends.
Most kids like to play sports, and most parents will encourage their children to try at least the most popular team sports such as soccer, baseball, basketball, or hockey. Some kids with ADHD are excellent athletes, and display great endurance. But many ADHD children have co-ordination problems in addition to the problems paying attention and being easily bored. Certain individual sports are a good solution for these kids.