The first long-term, large-scale study designed to determine the safety and effectiveness of treating preschoolers who have attention deficit/hyperactivity disorder (ADHD) with methylphenidate (Ritalin) has found that overall, low doses of this medication are effective and safe.
ADHD, Preschool Children, and Medication
However, the study found that children this age are more sensitive than older children to the medication's side effects and therefore should be closely monitored. The 70-week, six-site study was funded by the National Institutes of Health's National Institute of Mental Health (NIMH) and was described in several articles in the November 2006 issue of the Journal of the American Academy of Child and Adolescent Psychiatry.
"The Preschool ADHD Treatment Study, or PATS, provides us with the best information to date about treating very young children diagnosed with ADHD," said NIMH Director Thomas R. Insel, MD. "The results show that preschoolers may benefit from low doses of medication when it is closely monitored, but the positive effects are less evident and side-effects are somewhat greater than previous reports in older children."
Methylphenidate is the most commonly prescribed medication to treat children diagnosed with ADHD. But its use for children younger than 6 years has not been approved by the Food and Drug Administration. And until PATS, very few studies—and no large-scale ones—have been conducted to collect reliable, consistent data to help guide practitioners treating preschoolers with ADHD.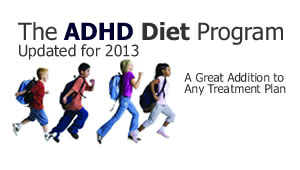 Go to the ADHD Diet Information site to get the full ADHD diet in eBook PDF format, including our UPDATES for 2013. We also have the full 21 minute information video on our ADHD eating program.

Design of Preschool ADHD Study
The 303 preschoolers enrolled in the study ranged in age from 3 to 5 years. The children and their parents participated in a pre-trial, 10-week behavioral therapy and training course. Only those children with the most extreme ADHD symptoms who did not improve after the behavioral therapy course and whose parents agreed to have them treated with medication were included in the medication study. In the first part of the medication study, the children took a range of doses from a very low amount of 3.75 mg daily of methylphenidate, administered in three equal doses, up to 22.5 mg/day. By comparison, doses for school-aged children usually range from 15 to 50 mg total daily.
The study then compared the effectiveness of methylphenidate to placebo. It found that the children taking methylphenidate had a more marked reduction of their ADHD symptoms compared to children taking a placebo, and that different children responded best to different doses.
"The best dose to reduce ADHD symptoms varied substantially among the children, but the average across the whole group was as low as 14 mg per day," said lead author Laurence Greenhill, M.D., of Columbia University/New York State Psychiatric Institute. "Preschoolers with ADHD may need only a low dose of methylphenidate initially, but they may need to take a higher dose later on to maintain the drug's effectiveness."
To ensure the safety of the very young children involved, the study was governed by a strict set of ethical standards and additional review boards. The children's health was monitored carefully and repeatedly throughout the study's duration. Their parents were repeatedly consulted for consent prior to every step of the program. The researchers also reviewed the teacher ratings of the children who attended preschool at various stages in the study.
Similar to 1999 results found in NIMH's Multimodal Treatment Study of Children with ADHD (MTA study), and other studies on school-aged children, the medication did appear to slow the preschoolers' growth rates. Throughout the duration of the study, the children grew about half an inch less in height and weighed about 3 pounds less than expected, based on average growth rates established prior to the study.
Currently, no data exist that track long-term growth rate changes among preschoolers with ADHD who are medicated with methylphenidate. However, a five-year-long follow-up study is underway to track the children's physical, cognitive, and behavioral development, as well as health care services the family is using to care for the child. Those data will be available in two to three years.
Preschoolers, ADHD Medications, Results
Eighty-nine percent (89%) of the children tolerated the drug well.
But 11 percent—about 1 in 10 children—had to drop out of the study as a result of intolerable side effects.
For example, while some children lost weight, weight loss of 10 percent or more of the child's baseline weight was considered a severe enough side effect for the investigators to discontinue the medication. Other side effects included insomnia, loss of appetite, mood disturbances such as feeling nervous or worried, and skin-picking behaviors. Despite concerns that stimulants may increase blood pressure or pulse, any changes seen in the children's blood pressure or pulse were minimal.
"The study shows that preschoolers with severe ADHD symptoms can benefit from the medication, but doctors should weigh that benefit against the potential for these very young children to be more sensitive than older children to the medication's side effects, and monitor use closely," concluded Dr. Greenhill.
PATS was conducted by researchers at Columbia/New York State Psychiatric Institute, Duke University, Johns Hopkins University, New York University, the University of California Los Angeles, and the University of California Irvine, in collaboration with NIMH staff under a cooperative agreement.
The National Institute of Mental Health (NIMH) mission is to reduce the burden of mental and behavioral disorders through research on mind, brain, and behavior. More information is available at the NIMH website.
The National Institutes of Health (NIH) - The Nation's Medical Research Agency - includes 27 Institutes and Centers and is a component of the U. S. Department of Health and Human Services. It is the primary federal agency for conducting and supporting basic, clinical, and translational medical research, and it investigates the causes, treatments, and cures for both common and rare diseases. For more information about NIH and its programs, visit NIH.gov.
Greenhill L, Kollins S, Abikoff H, McCracken J, Riddle M, Swanson J, McGough J, Wigal S, Wigal T, Vitiello B, Skrobala A, Posner K, Ghuman J, Cunningham C, Davies M, Chuang S, Cooper T. Efficacy and Safety of Immediate-Release Methylphenidate Treatment for Preschoolers With ADHD. J Am Acad Child Adolesc Psychiatry. 2006 Oct 4; [Epub ahead of print]
Wigal T, Greenhill L, Chuang S, McGough J, Vitiello B, Skrobala A, Swanson J, Wigal S, Abikoff H, Kollins S, McCracken J, Riddle M, Posner K, Ghuman J, Davies M, Thorp B, Stehli A. Safety and Tolerability of Methylphenidate in Preschool Children With ADHD. J Am Acad Child Adolesc Psychiatry. 2006 Oct 4; [Epub ahead of print]
McGough J, McCracken J, Swanson J, Riddle M, Kollins S, Greenhill L, Abikoff H, Davies M, Chuang S, Wigal T, Wigal S, Posner K, Skrobala A, Kastelic E, Ghuman J, Cunningham C, Shigawa S, Moyzis R, Vitiello B. Pharmacogenetics of Methylphenidate Response in Preschoolers With ADHD. J Am Acad Child Adolesc Psychiatry. 2006 Oct 4; [Epub ahead of print]
Kollins S, Greenhill L, Swanson J, Wigal S, Abikoff H, McCracken J, Riddle M, McGough J, Vitiello B, Wigal T, Skrobala A, Posner K, Ghuman J, Davies M, Cunningham C, Bauzo A. Rationale, Design, and Methods of the Preschool ADHD Treatment Study (PATS). J Am Acad Child Adolesc Psychiatry. 2006 Oct 4; [Epub ahead of print]
Swanson J, Greenhill L, Wigal T, Kollins S, Stehli A, Davies M, Chuang S, Vitiello B, Skrobala A, Posner K, Abikoff H, Oatis M, McCracken J, McGough J, Riddle M, Ghuman J, Cunningham C, Wigal S. Stimulant-Related Reductions of Growth Rates in the PATS. Stimulant-Related Reductions of Growth Rates in the PATS. J Am Acad Child Adolesc Psychiatry. 2006 Oct 4; [Epub ahead of print]
NIMH publications are in the public domain and may be reproduced or copied without the permission from the National Institute of Mental Health (NIMH). NIMH encourages you to reproduce them and use them in your efforts to improve public health. Citation of the National Institute of Mental Health as a source is appreciated. Preschoolers and Ritalin