Ritalin and Adderall may be in Short Supply for the Summer of 2011
Have you experienced problems in filling your prescriptions for your ADHD medications such as Ritalin or Adderall?
Recently the FDA had to add some common ADHD medications to their list of drugs that are in short supply across the country, and many parents are reporting difficulty in finding a pharmacy that can fill their prescriptions.
According to the FDA, there are a number of medications that are on their "short supply" list. Today there are a total of 178 medications in short supply, while in 2005 there were only 61 on the list. Most of the medications on the list are injectable medications, or medications given intravenously. These include "medically necessary" drugs including certain cancer drugs, anesthetics for surgery, certain "crash cart" drugs for emergencies, and other IV medications.
But also on the list are certain drugs taken orally, including some of the drugs used to treat ADHD in both children and adults.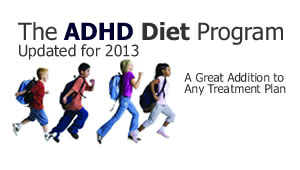 Go to the ADHD Diet Information site to get the full ADHD diet in eBook PDF format, including our UPDATES for 2013. We also have the full 21 minute information video on our ADHD eating program.
ADHD Medications : Updated Status
As of July 12, 2011, here is the status report:
Of the five companies that distribute Methylphenidate HCI (Ritalin or generic), two are backordered until the end of summer, but three have all strengths of the product in stock.
There are two companies that make Amphetamine Mixed Salts, ER capsults, (Adderall or generic). Shire makes the real stuff, but they are having "supply issues" and "uneven product distribution patterns" with Adderall. Teva makes generic medicines, and they are reporting "supply issues," but are "releasing product as it becomes available."
You can keep up to date on the status of these medications at the FDA's "Current Drug Shortages" web page : http://www.fda.gov/Drugs/DrugSafety/DrugShortages/ucm050792.htm
If you are having problems finding and filling your prescriptions, be sure to talk with your doctor. There may be other strategies or interventions that would work just as well for you situation.
This book section: ADHD Medication Issues and Research
Douglas Cowan, Psy.D., MFT is a licensed Marriage and Family Therapist in Tehachapi, CA who has been a counselor to children, teens, and adults helping them to overcome ADHD, find relief for depression or anxiety, and solve other problems in life since 1989. He served on the medical advisory board to the company that makes Attend and Extress from 1997 through 2011, and he is the Editor of the ADHD Information Library online resource at http://newideas.net/. His weekly ADHD Newsletter goes out to 9,500 families. Visit his website at http://DouglasCowan.me for more information on achieving greater health, personal growth, Christ-centered spirituality, stress management, parenting skills, ADHD, working out the stresses of being a care-giver to elderly parents and also being a parent to teenagers, or finding greater meaning in retirement years, Dr. Cowan can be a valuable resource to you.
Counselor counseling Tehachapi for ADHD, depression, anxiety, and more.


Douglas Cowan, Psy.D., MFT
27400 Oakflat Dr.
Tehachapi, CA 93561
(661) 972-5953